Pembroke's Mayor for the 2018-2022 term is Michael LeMay.
On behalf of my City Council Colleagues, we are honoured to serve the residents of our City. Pembroke, "the Heart of the Ottawa Valley", is a great place to live, work and play. We are proud of our community.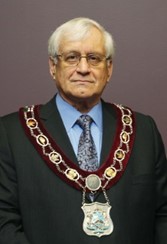 Council will continue to lead with integrity, honesty, and transparency. We will seek out partnerships and collaborate with all of our citizens to help make Pembroke an even better place to live. City Hall is open to everyone and we will improve the systems that allow the greatest level of involvement possible.
If you are a visitor or investor, it is our hope that you consider Pembroke next time you are planning a vacation or business venture.
If you are a resident, it is an honour to serve as your Mayor and please feel free to contact me or a City Councillor if we can be of service to you and your family.
Thank you for visiting our website. I hope you find it helpful. Please visit it regularly for updates on what is occurring in our City.
Michael LeMay, Mayor