The City of Pembroke today sits on the unceded and traditional land and territory of the Algonquin people. In acknowledging that Pembroke has benefitted and continues to benefit from access to this territory in a manner which continues to displace and disadvantage Indigenous peoples, the municipality will strive to take further steps to restore justice for the original inhabitants of the area. Pembroke is continuing to expand its knowledge on Indigenous issues and learn about the action that is necessary within the community.
The City of Pembroke's actions with regards to Indigenous affairs are informed and advised in part by the Diversity Advisory Committee.
Events
National Indigenous Peoples Day
National Indigenous Peoples Day is held annually on June 21 to recognize, celebrate, and learn about the cultures and contributions of First Nations, Inuit, and Métis peoples. We look forward to returning to in-person celebrations in 2022.
Pow Wow
On the third weekend of August each year, Pikwakanagan welcomes numerous drum groups, hundreds of dancers, and thousands of viewers to celebrate the culture of the Alqonquin people through their traditional pow wow.
In addition to the songs, dancing, and drumming, there are many vendors at the event selling unique items including jewelry, crafts, art, clothing, beadwork, leather purses, regalia, drums, CDs, dreamcatchers, moccasins, and food.
More information about the ceremony and the cultural tradition can be found on the Algonquins of Pikwakanagan First Nation website.
Mashkiwizii Manido Wellness Group
The Mashkiwizii Manido Wellness Group is an opportunity to come together as community for smudging, opening prayer, to share information and/or teachings, learning, discussions, and always ending in a talking circle. All groups are held on Wednesday evenings from 6-7:30 p.m. via Zoom.
To register if you are new to the program, call 613-629-4243 or email the program leaders.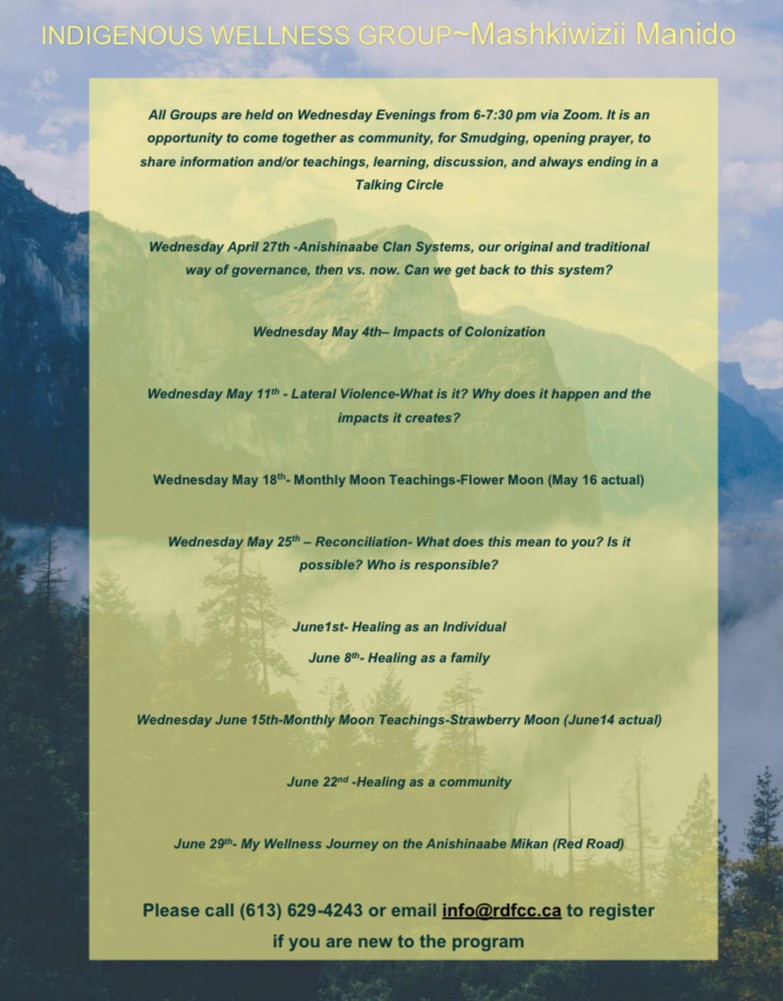 Resources
The Algonquins of Pikwakanagan First Nation website features resources in a variety of fields, including:
The Algonquins of Ontario Consultation Office includes representatives from Pikwakanagan and nine other Algonquin communities, including non-status Algonquins in Algonquin territory. All matters of consultation should be directed to their office.
The Métis Nation of Ontario website features resources in a variety of fields, including:
Tungasuvvingat Inuit is an Inuit-specific urban services provider based in Ottawa that offers community supports for Inuit of all ages. They provide social support, cultural activities, employment and education assistance, youth programs, counselling, crisis intervention, and more.
The Indigenous Services Canada website features resources in a variety of fields, including:
Further Indigenous funding and grant programs can be found here from the federal government to cover a variety of fields, including:
Several more grants and programs from the provincial government can be found online, with new funding opportunities in a diversity of categories regularly opened.
The Learning Portal toolkit from College Libraries Ontario features a collection of educational resources to learn and teach Indigenous history, perspectives and culture.
Use the following resources to gain information about ongoing Indigenous issues:
Cultural Resources
CBC has curated a playlist of music from Indigenous artists, which can be enjoyed online or on any device.
The National Film Board has a collection of short films and feature-length films focused on Indigenous culture, history, or stories which can be viewed for free on its website.
Other Groups and Organizations to Consider
The Circle of Turtle Lodge is an off-reserve registered charity established in 1999 to restore, preserve, and protect Indigenous culture and traditions. On their website, you can learn more about their objectives, join their community, or purchase literature to help fund programming.
The Ottawa Valley Against Racial Discrimination Facebook group is available for individuals to learn and discuss with others and form new connections within the community who seek to help BIPOC residents live here free from racial discrimination.
Helplines
The Hope for Wellness helpline offers immediate help to all Indigenous peoples across Canada and is available 24 hours a day, 7 days a week to offer counselling and crisis intervention.
Call the toll-free helpline at 1-855-242-3310 or utilize the online chat at hopeforwellness.ca.
Experienced and culturally competent helpline counsellors can help if you wish to talk, are distressed, have strong emotional reactions, or may be triggered by painful memories. If asked, counsellors can work with you to find other wellness supports that are accessible nearby.
Telephone and online counselling are available in English and French. On request, telephone counselling is also available in Ojibway, Cree, and Inuktitut.
Residential School Crisis Line
A National Indian Residential School Crisis Line has been set up to provide support for former residential school students. You can access emotional and crisis referral services by calling the 24-hour national crisis line at 1-866-925-4419.