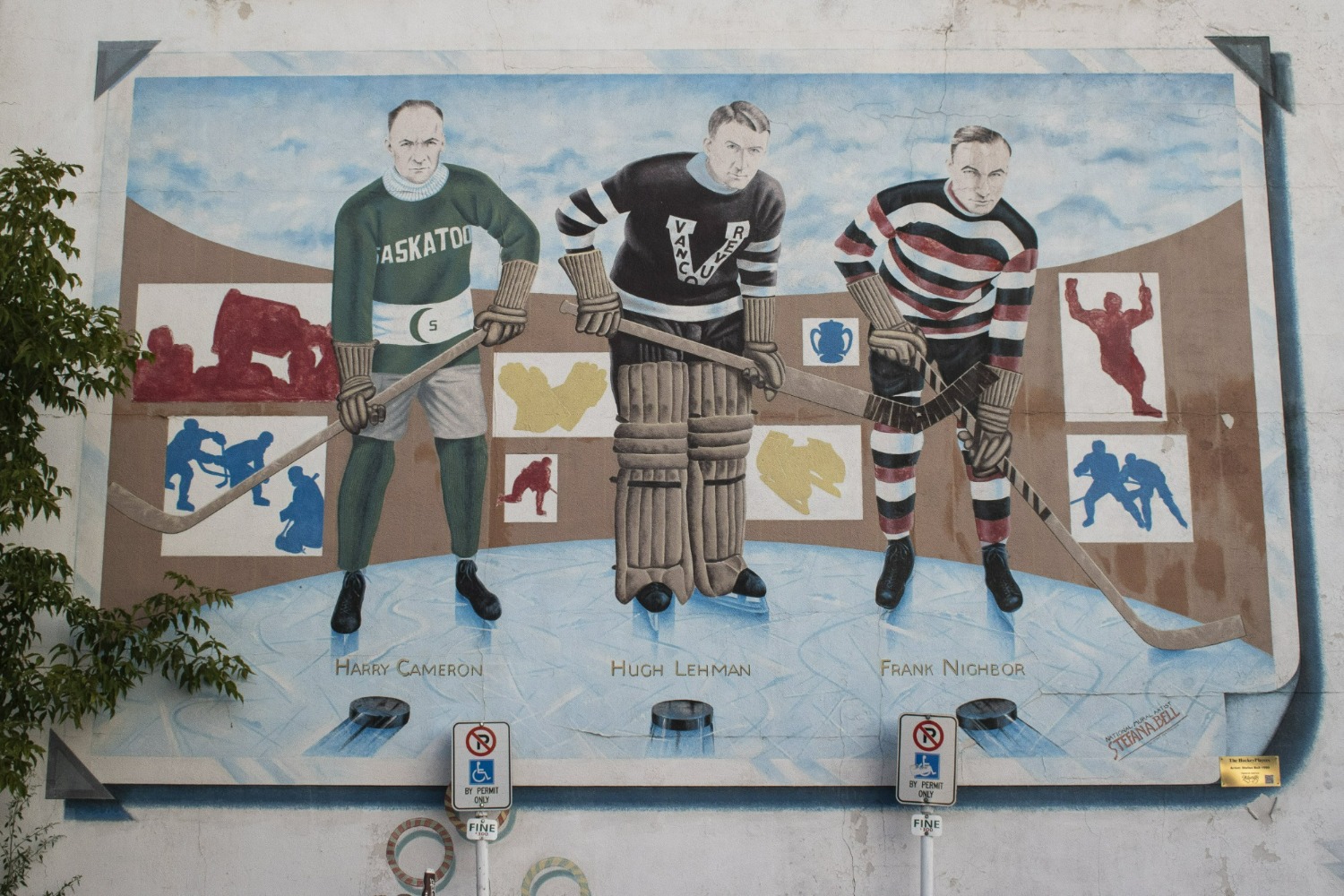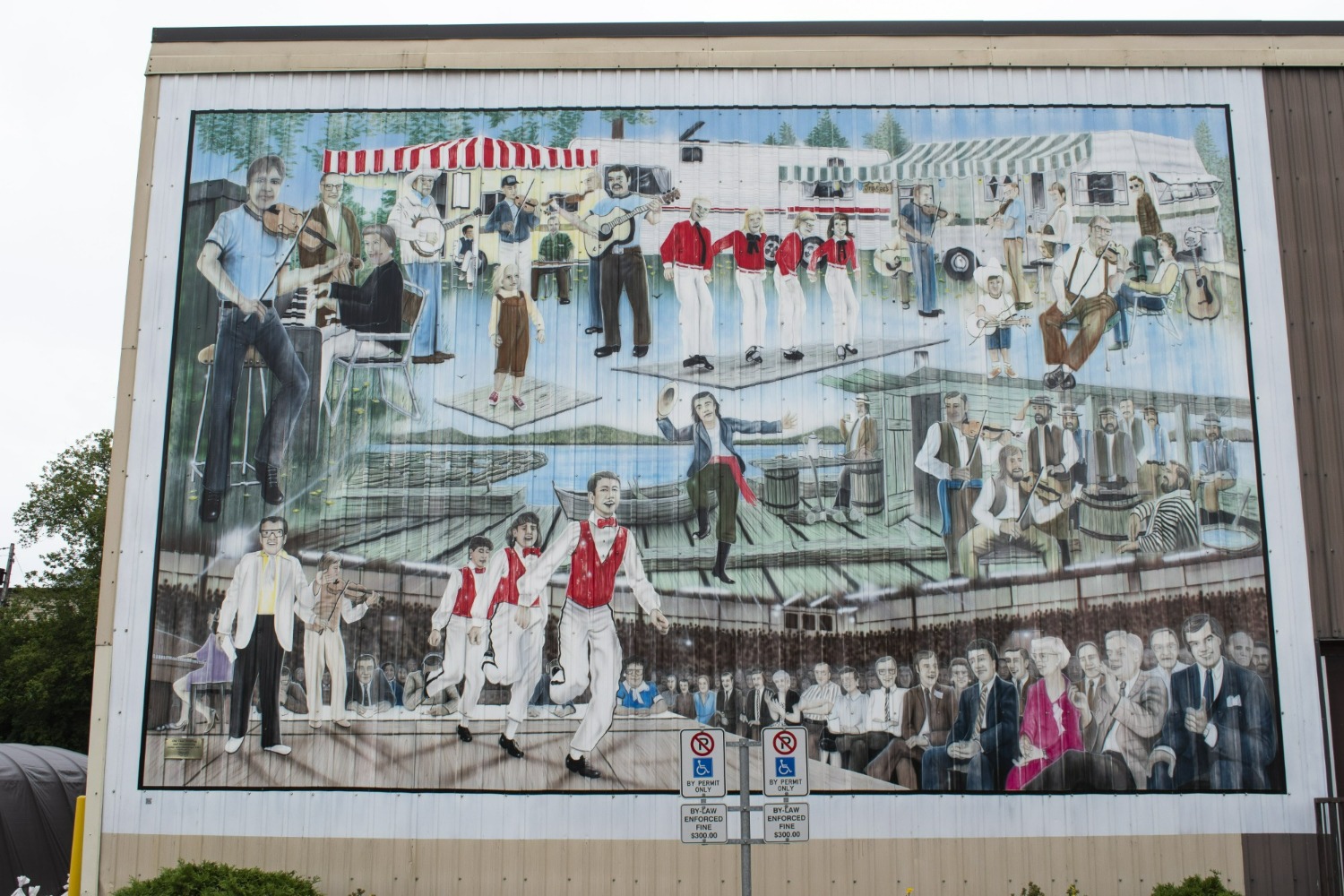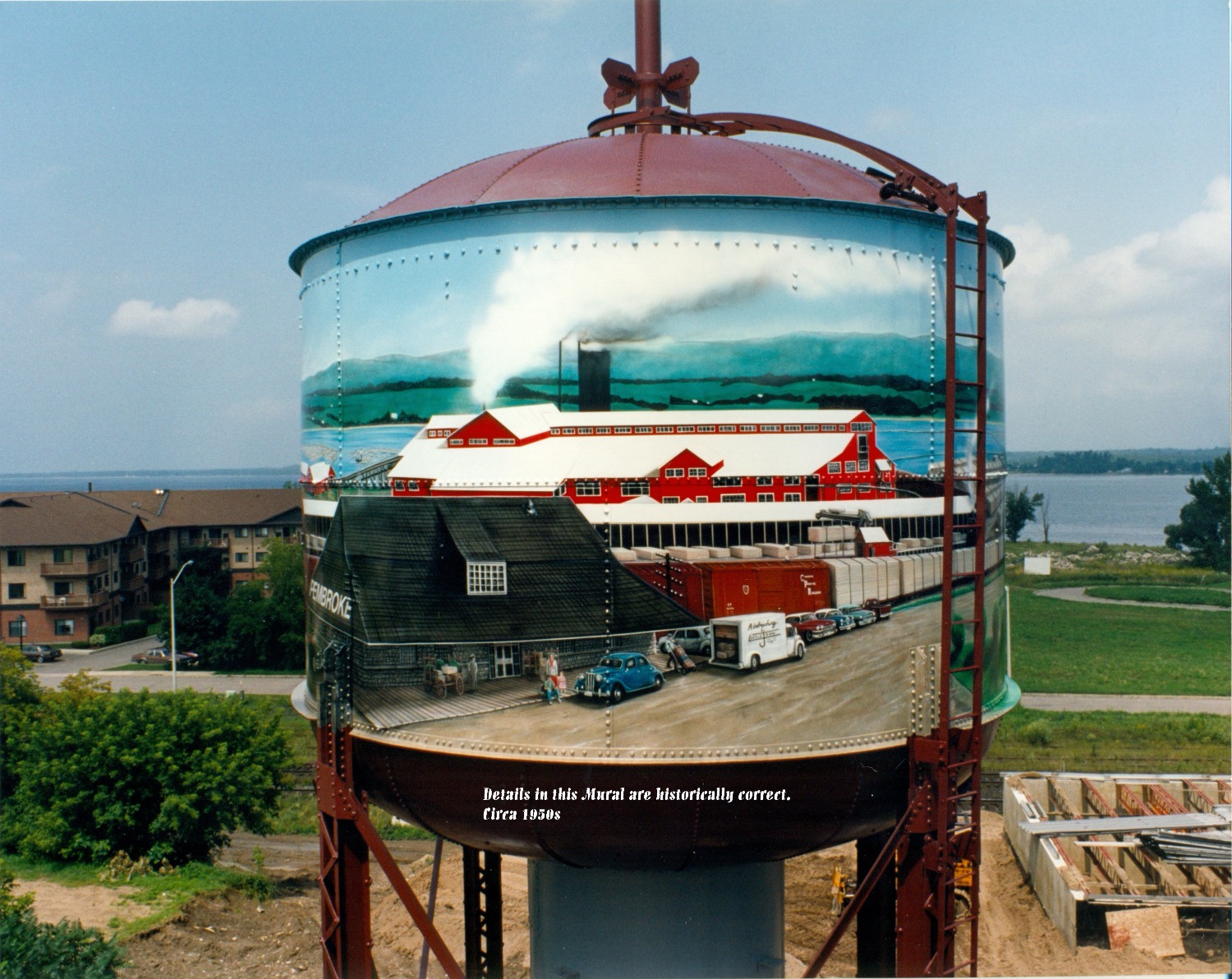 Pembroke Heritage Murals celebrates the region's heritage and character through large-scale paintings on an ever-increasing number of Pembroke's downtown walls, colourfully portraying a bygone era for the enjoyment of today's generation.
Our story unfolds as you walk through the streets of Pembroke. By the turn of the 20th century, Pembroke had grown into a vigorous logging community. As the town grew, the landscapes and lifestyles changed. Our murals are an illustrated record of these changing panoramas and history over the past two centuries.
Since the first five murals were painted in 1990, Pembroke Heritage Murals has overseen the creation of more than thirty murals by both local and national artists. Their styles are as varied as the wealth of historical source material they've researched and been influenced by.
Murals information and map
To learn more about the stories behind each of the Pembroke Heritage Murals, download the murals descriptions, available in English and French.
Explore downtown Pembroke with a map of the Pembroke Heritage Murals!
Les Murales de Pembroke video series
Watch the French mural series showcasing the murals, Les Murales de Pembroke, made in partnership with l'ACFO-Champlain.
Audio tour
A free audio tour of the murals has been created by the Pembroke Heritage Murals Committee so you can enjoy your own personal guided tour of one of Canada's largest outdoor art galleries! With sound production by The House of Music and narration from Dave Henderson, we hope you enjoy this artistic walk through Pembroke's recent heritage and history.
The tour follows the order that can be found in the murals descriptions guide and provides verbal breaks between descriptions so people can move on to the next mural. Listeners can also navigate to the mural in front of them or to one they are particularly interested in. The audio mural tour provides in-depth details and information about each mural.
The Pembroke Heritage Murals audio tour can be downloaded and played from your own device as you make your way through downtown Pembroke.
Audio Tour Part 1 (Murals 1-18)
Audio Tour Part 2 (Murals 19-34)
Murals Postcards
Currently, Pembroke's outdoor art gallery has thirty-five heritage murals in the collection. For a unique souvenir from Pembroke, you can buy postcards of any of the heritage murals now at the Downtown Pembroke Visitor Information Centre at 130 Pembroke St. W.
The Pembroke Heritage Murals Committee is offering all businesses the opportunity to sell full sets of thirty-seven postcards. Each business must purchase a minimum of five sets of postcards, at $8 per set, for a total of $40. Pricing is up to individual businesses to choose.
To place an order, contact the Pembroke Heritage Murals Committee.
Murals artists profiles
Stephan Bell
Austrian born, he studied art in Toronto and spent a number of years in illustrating and production positions before undertaking freelance assignments and opening his own studio. He has produced many commercial and advertising projects and designed greeting cards, books, and magazines. Bell is noted for Canada's largest mixed-subject mural, in Creston, British Columbia. He resides in Santa Fe, New Mexico.
Neil Blackwell
Neil studied at the Slade School of Art in his native London, England, and moved to Canada in 1958. A versatile artist, Neil is at home with a wide range of subject matter. In his earlier days, he painted in a renaissance style of the great masters, and was an accomplished portraitist. However, his unique ability to capture wildlife in its natural habitat soon made him one of the most sought-after wildlife artists in North America.
Robin Burgesse
Robin was born in Arvida, Quebec, but spent much of his life in the Pembroke area. At the age of 18, he began his career as a professional artist when he was commissioned to paint a billboard for Renfrew County Coach Lines. After a stint in Toronto, Ontario, he returned to Pembroke and worked as a designer for Eddy Match and for Canadian Forces Base Petawawa. Generally self-taught, Robin returned to school in his early thirties to study art and graduated with honours.
Craig Campbell
Craig, a resident of Perth, Ontario, is internationally known for his realistic paintings of Canada, especially for a series of paintings of Ontario railroad stations and steam engines. In fact, his first job after graduating from high school was as an office boy for the Canadian Pacific Railway. Campbell has won 22 artistic merit awards over the years. His paintings are in great demand by galleries, corporations, and private collectors.
Randy Chester
Randy was born in Germany in 1956 and attended Concordia University, where he obtained a degree in Fine Arts. His first mural was in Montreal, on a building since demolished, but he has done other murals in Quebec City, Quebec and St. Foy, Quebec. He uses all art forms and media in his works. Randy lives in Pembroke and is a teacher's aide and art teacher in nearby Chapeau, Quebec.
John Ellenberger
John was born in Renfrew, Ontario but moved away at a young age because of his father's military career. He returned to this area for high school. John attended Sheridan College in Oakville and graduated from a commercial arts course at Assiniboine College in Manitoba. A multimedia artist, John has produced many award-winning products. He is now co-owner of Little John's Custom Painting in Garson, Ontario.
Robert Garneau
Robert Garneau is Pembroke Heritage Murals' youngest artist, born in 1970. He attended high school in Kapuskasing, Ontario and Pembroke, and attended the University of Waterloo. The first mural he painted depicted four sports scenes for a sports bar in Pembroke. Robert assisted mural artist Robin Burgesse in 1990 and he worked with Pierre Hardy in 1991 before undertaking his own mural in the same year.
Pierre Hardy
Pierre was born in Ottawa, Ontario in 1961 and studied Fine Arts at the University of Quebec in Hull, Quebec. After painting his first mural in his parents' basement, Pierre has continued to paint murals full-time since 1984 and has over 40 murals to his credit. He has created murals on walls, on panels, out of tiles, and in other media and has won the Elizabeth Greenshields Foundation Award for figurative painting two years in a row.
Karole Marois
A graduate of Toronto's Ontario College of Art and Design, Karole Marois continued her studies at the Academy of Fine Arts of Florence, Italy, where she was particularly inspired by the expression of the human spirit in the art of the Renaissance. Several exhibitions of her figurative artwork have highlighted her interest in painting people, and Karole has numerous commissions to her credit, in particular historical murals painted for Parks Canada and the National Museums. She is currently living in Prince Edward County, Ontario.
Marillyn Saffery
Marillyn Saffery was born in Port Elizabeth, South Africa and immigrated to Canada in 1970. She and her family eventually settled in Micksburg, Ontario (near Cobden). She studied fine arts in Johannesburg at the University of the Witwatersrand, and much later studied Art Therapy at the University of Western Ontario. Marillyn has created indoor and outdoor murals and also does mural restoration work. She has taught art, enjoys designing and painting theatre sets for local productions, paints, and has a private art therapy practice.
Shauna Torgerson
Shauna is a professional artist who creates oil paintings, indoor/outdoor murals, and handmade, hand-painted shoes. She studied Fine Art at the University of Guelph where she obtained a BA honours degree in Studio Art. She also studied make-up effects at Complections College of Make-up Art and Design in Toronto, graduating first in class. Her work has been exhibited in various shops and shows including the annual Canadian Portrait Competition hosted by the Portrait Society of Canada where she received a certificate of merit in 2012 for outstanding achievement in fine art portraiture in Canada. Shauna also exhibits at the Christmas and Spring One of a Kind Shows in Toronto, Canada. Find out more at torart.ca.
David Yeatman
David was born and raised in Ottawa, Ontario and now lives in Aylmer, Quebec. He started his artistic career in the newspaper business as an advertising artist. David is currently painting murals across Canada and most recently completed work for a large restaurant chain.
Murals poems
All poems written by Gary Howard.
First Settlers
They journeyed from Canada's upper and lower domains
to carve a settlement out of the wild
Amidst the magnificent virgin pines
whittling a homestead for each man, woman and child
The pioneers heeded the challenge of the Crown
testing the might of Mother Nature's force and power
Lured by seductive grants from upon high
to a land not so gentle to those who cower
The Irish, the Scottish and English settlers
labored side by side with those of French descent
From early dawn to evening's fading light
returning to their homes, often tired and over spent
Toiling on the allotted acreage
they brought in crops though shackled by their chains
Forever fighting the hardness of the land
they labored through a life that quickly drains
Through the wicked winter winds
they sought shelter in the sanctity of hearth and home
Struggling through the four seasons of despair
growing old, no longer any desire to roam
Fueled by a passion and a love for the land
they chopped and cropped for their daily bread
Their legacy is eternally etched on Champlain's walls
forever remembered for the courageous life they led.
Tribute to "The Pioneers of Pembroke Township 1820-1850" mural
The Great Wall of Pembroke
Faces leap before our eyes,
profiles from our storied past
on the great wall of Pembroke
a rich historical repast.

The wall that unites generations
exposing much more than it hides
possessing a brighter outlook
than a wall that encloses or divides.

A sparkling jewel in the mural crown
exploding like a giant fireworks display
lighting the path to progress
from decades past to present day.

A timeless artistic treasure
as hardy as those who pioneered
an impenetrable barrier to pessimism
a tribute to all who persevered.

A collage of citizens from all walks of life
now marching together as one
into the millennium with hope and optimism
into the future with aplomb.

Let not this wall come tumbling down
nor the curtain fall on our dreams
let future generations stand and marvel
at the magnitude of our schemes.
The Murals
Painted murals portrayed on brick
recall the essence of our lives
History captured on coloured walls
ensures our past and present thrives.

Muralists come from far and near
to rekindle history at dawn's first light
They toil under watchful eye on scaffolds high
labouring often into night.

Hockey legends stand tall and gaunt
imaged clear on giant-sized tigerish walls
Side by side with other regal landmarks
overlooking market stalls.

Uniformed members of our Forces
face a legion of admirers from the past
Colours blend in myriad splendour
a window on the best at last.

Swallows sketched on stationary walls
point towards a surplus of water white and clear
Settlers followed in the steps of Champlain
and farmed the land with hope and fear.

Curious pilgrims pause to view
the saintly lady adorned in grey
Immaculately conceived through skilful artistry
in stately holy church-like way.

Fond and hardy memories are recalled
of ice and bread delivered door-to-door
In rain and sleet and broiling sun
on streets first lighted then and now forevermore.

Citizens and visitors retrace history
on paved and narrow well-worn trail
Memories are harvested and cherished once again
lest the sands of time run out and fail.
The Rafter's Ride
The hardy lumber men of yesteryear
who earned their pay with sweat and brawn
ventured into God's green forests
to begin their toil at the break of dawn

They bid adieu to friends and family
when the leaves dropped slowly to the ground
and headed to the logging camps
for a winter's work they were bound

They cut and hacked at nature's beauty
as the tall, tall pines came tumbling down
and ate their beans and bread in the shanty camps
no time to sit and fret or frown

Then came the glorious spring of man's awakening
when the logs were ready for the drive
stacked and squared for the rafter's ride
down the mighty river they dip and dive

The minstrels celebrate their life in song
and writers tell of their tall tales
on the timber rafts on the swollen river
for the big spring drive they set their sails

Our ancestral days are re-created
of brave men against the raging river
the drive is on, the drive is on
the Valley timber they must deliver.