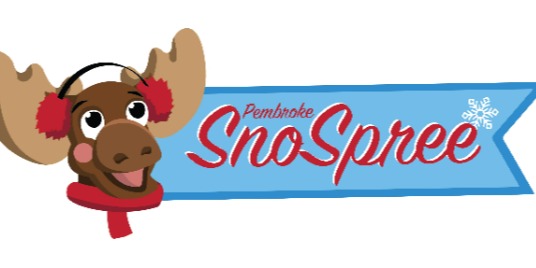 The City of Pembroke is happy to announce their line-up of winter festivities for their annual SnoSpree.
Also starting January 31st, snowshoe renters could find the golden ticket on a pair of snowshoes. Snowshoe rentals are available for one week and are free to borrow. Sizes are available for kids and adults. The person who finds the golden ticket will win their won pair of snowshoes!
SnoSpree will kick off in-person activities on Wednesday February 2nd with a free P.A. Day skate at the Pembroke Memorial Center from 11 a.m.- 12 p.m. More free skates will follow on Friday 7-8:30 p.m. and Sunday 2-3:30 p.m. All family skates during SnoSpree require a ticket due to limited spaces available. Skates are limited to 50 skaters per hour. Free swims at the Kinsmen Pool will take place Friday night from 6-6:40 p.m., and 7-7:40 p.m. as well as Saturday from 3-3:40 p.m. Booking in advance is required for swims as space is limited. To book a swim call the Kinsmen Pool at 613-735-6821 ext. 1506.
Couples can enjoy a date night at home on Thursday February 3rd with the Date Night package from downtown businesses which includes a charcuterie appetizer from Little Things Canning Company, a homemade pizza kit from Joes Pizzeria for dinner and dessert box from 7th Heavan Sweets! Prices are $45 per couple. Deadline to register is February 1st at 4 p.m. Boxes will be available for pick up at the Pembroke Memorial Center on Thursday February 3rd.
Friday night is general trivia night online for the whole family. Put your general knowledge to the test, there is a little something for everyone! All funds raised will be going to CPAN in support of Operation Snowsuit. All ages welcome, max team size of 6, $30 per team.
On Saturday there will be giant lawn games and inflatable activities for the whole family at the Pembroke Marina from 1-4 p.m. followed by a free movie, Cruella, at Festival Hall at 7 p.m. Doors will be open at 6 p.m. Tickets are required for everyone in attendance, as well as proof of vaccination for everyone 12 years of age and older.
Saturday and Sunday join the Pembroke & Laurentian Handi-Bus in a new twist on the polar dip. Grab a pledge sheet and try to be the next Ice Water Challenge Champion! Send a video of you pouring ice water over your head, along with your pledges and you will get featured on their Facebook page as the Ice Water Challenge Champion.
To register for any of these activities or to find out more information contact the Recreation Department 613-735-6821 ext. 1501.