Council Briefs April 5, 2022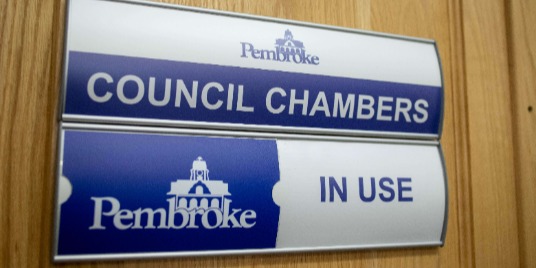 The following actions were taken at the Council meeting of Tuesday, April 5, 2022:
Public Meeting
A public meeting was held regarding the rezoning of 0 Matheson Drive.
Planning & Development Committee
Community Improvement Panel Request for Pembroke Curling Centre
Committee approved the request for the CIP Grant to the Pembroke Curling Centre for the Community Improvement Plan COVID-19 Business Support Grant.
Finance & Administration Committee
Reconstruction of Sidewalks During Reconstruction Projects
Committee approved staff recommendation to eliminate sidewalks on one side of Nelson Street during reconstruction where sidewalks on both sides exists.
Council Meeting
By-laws
By-law 2022-28 – Use of Corporate Resources for Election Purposes Policy
Council passed a By-law allowing the use of corporate resources for election purposes.
By-laws
By-law 2022-29 – Dedicated Gas Tax Funds Agreement
Council passed a By-law authorizing entering into an agreement with the Province of Ontario to receive funding under the Dedicated Gas Tax Funds.
By-laws
By-law 2022-30 – Restricted Acts of Council (Lame Duck Periods)
Council passed a By-law a authorizing delegation of authority during the restricted acts period known as "Lame Duck" for the 2022 election.